Coronation Street and Coercive Control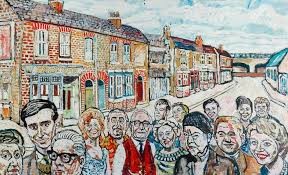 Coercive Control is defined as being an act or pattern of acts of threats, assault, intimidation and humiliation or abuse which is used to harm, frighten or punish the victim. It is controlling behaviour that aims to make the victim dependent on the abuser as they become isolated from their support network, deprived of their independence, exploited, and have their everyday behaviour regulated. Coercive Control became a criminal offence at the end of 2015 and carries a maximum prison sentence of five years, a fine, or both. As it is a relatively new crime, and like with domestic abuse can be difficult to spot because it frequently occurs within a household, it is important that people are aware of what it is and what to look out for. The ITV soap opera Coronation Street has been portraying a coercive control storyline for over a year now, and it has made a big impact on its viewers.
Coronation Street has used the couple Yasmeen and Geoff Metcalfe to portray this storyline. Geoff first came known to Coronation Street viewers in 2018 as Tim's dad and a local hospital DJ. For a while he seemed like a nice, happy man who was a bit of a joker. Yasmeen has been in the show since 2014 and came across as being quite strong and spoke her mind. She was previously married to Sharif, but found out that he had been having a long-term affair with her friend and they got divorced. What I really like about this storyline is that it has been different. It is not just that it has focused on a topic that is still relatively new for a lot of people to understand, but it hasn't been rushed, and has been used on two characters that viewers wouldn't have expected to be used, both as the victim and as the perpetrator.
Early on in Geoff and Yasmeen's relationship I remember there was a scene in the Rovers Return where Yasmin made a comment about Geoff not liking something. It was such a small thing but I picked up on it as that was an unusual thing for Yasmeen to say and I did wonder then if there was going to be a storyline for them, but I don't think I could have imagined  the storyline we have seen. Over the past year especially we have seen Geoff humiliate Yasmeen, degrade her, lock her in a box (used for his magic shows), time how long she is out for, control her finances by being in charge of her money, killed her beloved chicken and made her eat it, make her clean the house constantly and leave marks on the wall to tell if she has done a good job, tell her friends lies about her such as her having problems with alcohol, make her relationship difficult with her granddaughter, alienate her from her friends, and then there was the night where it finally got too much for Yasmeen to handle.
Earlier this year Geoff's control got to its highest level and Yasmeen attacked him with a wine bottle. That night, Geoff had bought a dress for Yasmeen, which was too big for her, and made her wear it for a night out with Tim and his wife Sally. Later on he said some horrible things about the way she looked, degrade her by throwing food at her while she was on the floor, and carried on shouting at her while having a knife in his hand. She was terrified and ended up hurting his neck with a wine bottle, and was soon arrested for attempted murder.
Currently the storyline is waiting on Yasmeen's trial, but the mask Geoff has been wearing around others is beginning to slip and people have started to doubt Geoff being an innocent party in what Yasmeen has been through. We have also seen the introduction of Geoff's first wife, and Tim's mother, Elaine who has backed Yasmeen's story with her own experience of what is was like being married to Geoff. In whatever way the story concludes, it has been brilliant to see such an important and current topic portrayed on one of the biggest shows on television, creating a lot of discussion and awareness for something that has only recently been seen as a criminal offence.
24-hour National Domestic Abuse Helpline – 0808 2000 247
The Men's Advice Line – 0808 8010327
Sarah Keeping
Follow Sarah on twitter at @keepingapproach
Follow E-therapy on social media:
Facebook – @Etherapy
Instagram – @EtherapyToday
Twitter – @EtherapyToday   
References
https://www.womensaid.org.uk/information-support/what-is-domestic-abuse/coercive-control/
https://www.gov.uk/government/news/coercive-or-controlling-behaviour-now-a-crime