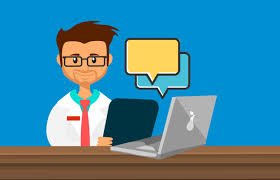 As a huge TV fan and a big believer in counselling, I was delighted last year to find the programme 'Hang Ups' being shown on Channel 4. Broadcast last summer, it focused on a character called Richard, played brilliantly by Stephen Mangan, as he began his new business as an online therapist based in his own house. He calls himself a therapist, but he could also be called a counsellor, and the programme focuses on his sessions with an array of clients as well as all the things going on in his own chaotic family home. This array of clients allowed for a lot of well-known actors to provide memorable performances, including Richard E. Grant, David Tennant, Daisy Haggard and Sarah Hadland. As well as star-spotting, it added a sense of comfort and ambition to a show which could easily have been put down as being a bit of a sketch show. To me, it seemed like it had a particular aim in mind – one which I think it achieved.
Hang Ups is based on the US show 'Web Therapy' which was created by and starred Lisa Kudrow (who is probably best known for playing Phoebe on the world-wide smash hit comedy 'Friends'). Both shows use improvisation, which is something I am always quite wary of, but when I think about it, it makes complete sense for a show like this. I'm sure any therapist will say that they will never normally know what their client is going to say, and they then have to react in whatever way necessary to what they hear. Therefore, this set up is probably the best one to use and at least adds some realism to the relationship between Richard and his clients. It also allows for the topics of the sessions to be absolutely anything with the back and forth questions taking them to a whole other place in some instances.
The main reason why I loved the show wasn't the comedy aspect, it was because it seemed to me that this is the kind of show that should now be made. In a world where we spend so much time online talking to others, whether it be on social media or via messaging services, it makes sense that therapy should be online as well, especially when most people lead very busy lives.
In an age where therapy, whether it is carried out face-to-face or online, is becoming more widely accepted in the UK, I still think it is important to challenge the stereotypes of the type of people who use it as well as that of therapists being people who know everything, say obvious things, and will not make any difference to someone's life. After a few episodes of the show, I did wonder why the focus wasn't always on the clients who were having their sessions, but I realised that it didn't need to be. As well as being a comedy, perhaps one aim of the show was to casually show the viewers what therapy can be like in a very obvious and a very un-obvious way. We also saw Richard in his own therapy sessions, which I think showed that everyone can have chaotic or complicated lives, but talking about it can make it easier.
As it is now summer again, I really hope they bring out a second series.
Sarah Keeping MBPsS MSc PgDip GDip BA (Hons)
Follow Sarah on twitter at @keepingapproach
References
https://www.theguardian.com/tv-and-radio/2018/aug/08/hang-ups-review-stephen-mangan-improv-comedy-is-glorious-tv-therapy